Troop 41 Annual Christmas Tree Sale F.A.Q. 2019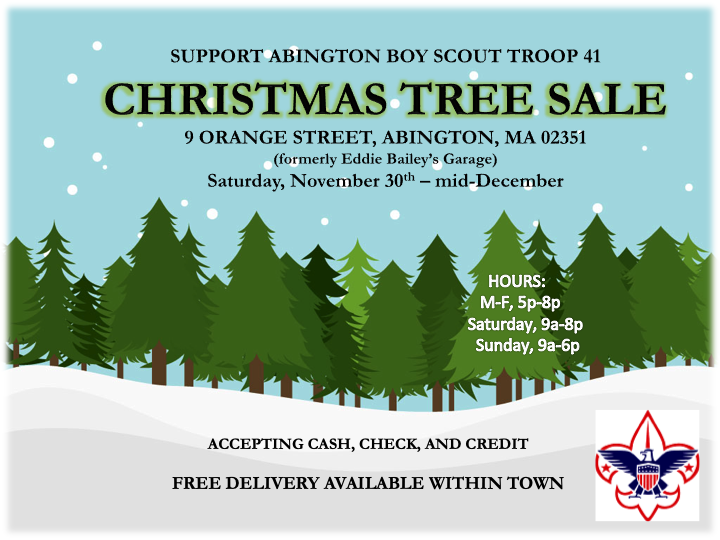 The Troop 41 Christmas Tree Committee has written up the following information and Frequently Asked Questions (F.A.Q.) guide for Scouts and their families in preparation for our annual Christmas Tree sales fundraiser. The annual Christmas Tree Sale is our major fundraiser for the entire year, with the proceeds being split between the troop and the boys (via their Scout accounts), so it is vital that we get 100% participation to make the fundraiser a success for everyone. Last year several boys were able to pay for most (and for some, all) of the cost of summer camp due to their work at the tree sales. The more you work, the more pay you will earn and the faster we will sell out of our available inventory and complete the sale.
Click here to download an Adobe PDF copy of the flyer to print out and distribute!
Sections of this webpage:
---
Emergency Contacts during Tree Sales
---
Items needed during sales:
First Aid Kit
Daily sign-in sheet (paper)
Advertisement signs
Banner
Transaction table
Cash box
Cell phone (and back up cell)
Square Reader
Pens
Stapler
#9 Envelopes
Food Pantry Donation Jar
Tags (White tags Avery #12201 (2 1⁄2 x 1 11⁄16)
Shipping tags for deliveries (Avery # 11011)
Sharpie markers
Twine
Gloves
Knives
Extension cord (2) 25′ (for radio and chain saw)
Lighting (need new halogen head)
Electric chain saw (adult use only) (Henry)
Milk crate (to lean tree on to cut off ends)
Broom (Henry)
Shovel (Henry)
Trash barrel
Tree stands (at Baileys)
Radio
Decorate and light one of the smaller trees with battery power or solar multi-color blinking lights
---
Tree Arrival (Friday morning 8am, 11/29/2019):
Where are the trees being delivered?
9 Orange Street (formerly Eddie Bailey's Garage) at the intersection of Washington Street and Rte 123
What day are the trees arriving?
The trees will be arriving at 9 Orange Street (formerly Bailey's Garage) before 8am on Friday, 11/29/2019 (day after Thanksgiving)
What time are the trees arriving?
We will be informed of an estimated time of delivery the day before the trees depart Canada.
What needs to be done?
300 trees will be unloaded from the truck and placed in the cage, with the first batch of trees being labeled and priced for sale beginning the next day.
How long will it take?
Approximately 2 hours to offload the truck, so long as everyone shows up on time! With full Scout and parent participation, unloading the trees will almost certainly take less time. ALL SCOUTS MUST ATTEND!
What happens next?
Pricing of Trees. Mr. Bailey will need the help of approximately 8 or 10 scouts or adults to open trees and bounce them and Mr. Bailey will price them.
When do sales start?
We will begin selling trees the very next day, Saturday 11/30/2019 and run the sale until either we sell out (we are scheduling until Sunday, Dec. 22nd, but if previous years experience is anything to go on hopefully we will sell out before then)
What time are we selling trees?
Monday-Friday 5pm-8pm, Saturday 9am-8pm, Sunday 9am-6pm. Scouts and adults are to arrive 1⁄2 hour before opening to set up and should expect to stay approximately 1 ⁄2 hour after close to clean up.
---
Safety
Note:it is mandatory that registered leaders and committee members complete Youth Protection Training
---
Sign-Ups
Are to be done online through SignUpGenius
Scouts and parents will receive an email invitation from to signup
Scouts please sign up using your own email address (if you have one)
For younger scouts without email addresses, 1 EMAIL address can be used for multiple family members
There is a need to stagger scouts with a mix of ages, we will adjust schedules as needed
If you are available for extra time, please let us know
Be sure to indicate how many people will be taking a time slot by entering the total number of volunteers for each shift (parents and Scouts inclusively)
If scheduling presents a problem, please contact: t41fundraising@abingtonscouts.com (this email is a distribution group monitored by the Christmas Tree Committee)
---
Staffing Needs
Note that each shift includes 1⁄2 hour prior to start and after end of each shift (i.e., before opening and closing times, for setup and cleanup)
Weekday sale hours: Monday-Friday, 5pm-8pm – one time slot per day
Saturday sale hours: 9am-8pm – two time slots, 8:30am-2:30pm, and 2:30pm-8:30pm
Sunday sale hours: 9am-6pm – two time slots, 8:30am-1:30pm, and 1:30pm-6:30pm
Setup before each shift:

Set up tree stands in lot
Move tree stands from cage to lot
Check cash box (start with $100 each day), never leave unattended
Make sure all signs set up, table, chairs, stand, music on
Place advertisement signs out
Food Pantry donation jar set out with some initial cash in it (to encourage people to donate)
Make sure cell phone and Square Reader are ready to go for credit card sales, charged up
Set up cutting area to include:

Extension cord
Lighting
Electric chain saw (adult use only)
Milk crate (to lean tree on to cut off ends)
Twine

Gloves
Box knives
Broom
Shovel
Trash barrel

Everyone working the shift signs up on the daily sign-in sheet; sign out when leaving
Breakdown after each shift:
Bring all unsold trees back into cage area (NOTE: When putting trees away, cover with a tarp if rain or snow is expected)
Put tree stands back in cage
Lot swept and cleaned up
Tables, chairs, signs all gathered up, put away
Food Pantry donation jar totals counted, tracked on daily tally sheet, donations stored separately from tree sale money
Store cell phone and Square Reader in cash box with charger
Securing Cash Box (at end of each shift):
all sales totals and cash must be counted and verified by at least 2 adults – sign off on totals on daily tally sheet
all cash and transaction receipts will be locked up by Henry Joseph (cell: 781-789-0418)
---
Sales Transactions (adults only)
All tree prices are as marked on the tag
We accept cash, credit cards, and checks made out to "Troop 41 Abington"
Remove price tag from each tree and before placing in cash box write on back of tag:

A = Anderson
C = Cash
CC = Credit Card
CK = Check
FP = Food Pantry

Scouts are expected to greet customers ("A Scout is Friendly…"), assist customers with tree selection and removal of tree from stand and assist with tie down of tree to customer's vehicle ("A Scout is Helpful…")
When tying down a tree atop a vehicle, be sure to always have the butt end (stump) at the front of the vehicle
---
Gift Certificates
We accept a pre-determined amount of gift certificates from:

Abington St. Vincent de Paul Food Pantry
Anderson Insulation (Anderson employees have 10 days from opening day 11/29 to redeem their gift certificates)
Trufant Realty (given to people that purchased a home through Trufant on official Trufant Realty letterhead)

When processing a gift certificate write the price and date on the gift certificate and also staple the price tag to the gift certificate and place both in cash box
Be sure to denote gift certificate tree sales on the tally sheet under their respective categories, separate from "Regular / Credit Card / Check sales!
---
Donations – Abington Food Pantry
All Donations are to be kept separate from tree sales monies
Any and all tips received are to be put in Food Pantry donation jar
---
Deliveries
We have a HUGE need for pick-up trucks (does your grandfather have a truck your dad can borrow or perhaps gramps would like to help out?)
Two Scouts must accompany the Adult driver on all deliveries – the only exception is if a single Scout is delivering with his own parent
Deliveries should be arranged by the adults on shift
Out of town deliveries should not go too far beyond the Abington town line. Do not go to any towns that do not border Abington. (We don't have the manpower for people to be away too long)
If busy with sales and cannot get to deliveries, put a shipping tag on the tree with the buyer's name, address, and phone # and where the tree is to be left (if so instructed)
Any and all tips received are to be put in Food Pantry donation jar
---
Weather
We sell if it rains or snows, but if snow is heavy the shift will be cancelled. Scoutmaster Chris Schulz will make the final decision on whether or not to cancel, and announcements will be made via email as well as on our Facebook page
If it should snow, extra help will have to be called in to clear snow. The snow will have to be shoveled out of the cage area to get to the trees.
When putting trees away, cover with a tarp if rain or snow is expected
---
Advertising / Flyers
Each scout will be given flyers to hand out to their choice – for example, extended family, friends from school / church / work, etc.
There is a need for a few volunteers to approach Abington businesses to inquire about displaying our flyer and advertising our tree sale. So as not to duplicate efforts we suggest splitting the businesses by categories listed below, along with an estimated number of businesses in each category:
Bakeries (3)
Churches (4)
Convenience stores (4)
Police Station
Fire Station
Library
Banks (6)
grocery stores (2)
pizza/sub shops (13)
gas stations (7)
liquor stores (4)
donut/coffee shops (9)
Pharmacies (4)
Restaurants (12)
Bulletin Boards:

American Legion Hall sign
High School sign
Police station sign
Please let us know if you are able to volunteer to distribute our flyer throughout town.
---
Sale Profits
Once the tree sales are over, the profits will be divided between the Troop (which benefits the Scouts directly) and the Scouts themselves in a 40% / 60% split (40% going to the Troop, 60% going to the Scouts)
The portion of the total profits that is given to the Scouts will be deposited into their Scout accounts
Scout account funds may be used to buy gear and defray costs for summer camp or other scouting events (ask Cheryl Hatch for your son's Scout account balance)
Hours worked by parents will count towards the overall number of hours worked by your son/sons, so parents time counts towards Scout account earnings
The amount that Scouts earn will be calculated based on the total number of hours worked between the Scout and his parents; so the more you work, the more you earn
---
Miscellaneous
Adults, even though you may not be scheduled, if you are able to swing by on your way home from work, even if only for a 1⁄2 hour, and assist with set­up or breakdown, please do so! If you are able to arrive before your son's shift ends and can assist with breakdown, please do so.
Although we won't be able to add additional fractional hours worked credit if you are not scheduled (far too difficult to track/check), please don't let that deter you from helping out as much as possible because all fundraising money ultimately goes back to all the Scouts in the troop. The sooner we sell out of trees the sooner the sale ends and we are done!